Joy Corrigan is enjoying every minute of her Mexican vacation. The model is currently staying at La Casa de la Playa in Playa del Carmen, showing off her fantastic physique in a swimsuit as she soaks in an infinity pool overlooking the ocean. "Living in paradise," is what the video looks like. How does the 27-year-old prioritize health and wellness? Read on to see 6 of Joy Corrigan's top tips for staying in shape and the photos that prove they work—and to get beach-ready yourself, don't miss these essential 30 Best-Ever Celebrity Bathing Suit Photos!
Joy has an intentional morning ritual. "I try to make my mornings intentional and mindful," she told Women Fitness. "Every day, right when I wake up, I start with a large glass of water followed by a quick meditation. Next, I make a fully organic coffee that includes Chaga mushrooms, ashwagandha, and MCT coconut oil while I review my daily to- do list."
Joy encourages stretching. "My top 5 stretches are downward dog, splits, backbends, toe touches, and any other easy yoga moves. Recently I have been using the ALO Moves app to learn new stretches!" she revealed to Women's Health. "Stretching is an important component of any exercise program. Most aerobic and strength training programs inherently cause your muscles to contract and tighten," the Mayo Clinic chimes in. "Stretching after you exercise helps optimize the range of motion about your joints and boosts circulation."
Joy refuels her body post-workout session with a blend of fruits and veggies. "After my workouts, I love to make a smoothie loaded with organic frozen berries, almond butter, acai, spinach, celery, cucumber, and a little protein or collagen," she told Women's Health. A study by food scientists at Texas A&M University found that smoothies are actually better for you than juices, as they maintain higher levels of fiber and beneficial phytonutrients—and seven times more naringin, an anti-inflammatory phytochemical that may help fight cancer—compared to the solution created by a juicer.
Joy encourages hydration. "Drink plenty of water!" she told Haute Living. "It's a great way to rid my body of toxins and curb my appetite. Drinking a huge glass of water first thing in the morning is one of my favorite habits." Per the Mayo Clinic women should drink a minimum of 11.5 cups and men, 15.5 cups, of water per day. "By consuming the minimum recommendation of water, you're helping your body function better and improve your overall health. Read tips and a recipe if you have difficulty drinking enough water daily," they say.df44d9eab23ea271ddde7545ae2c09ec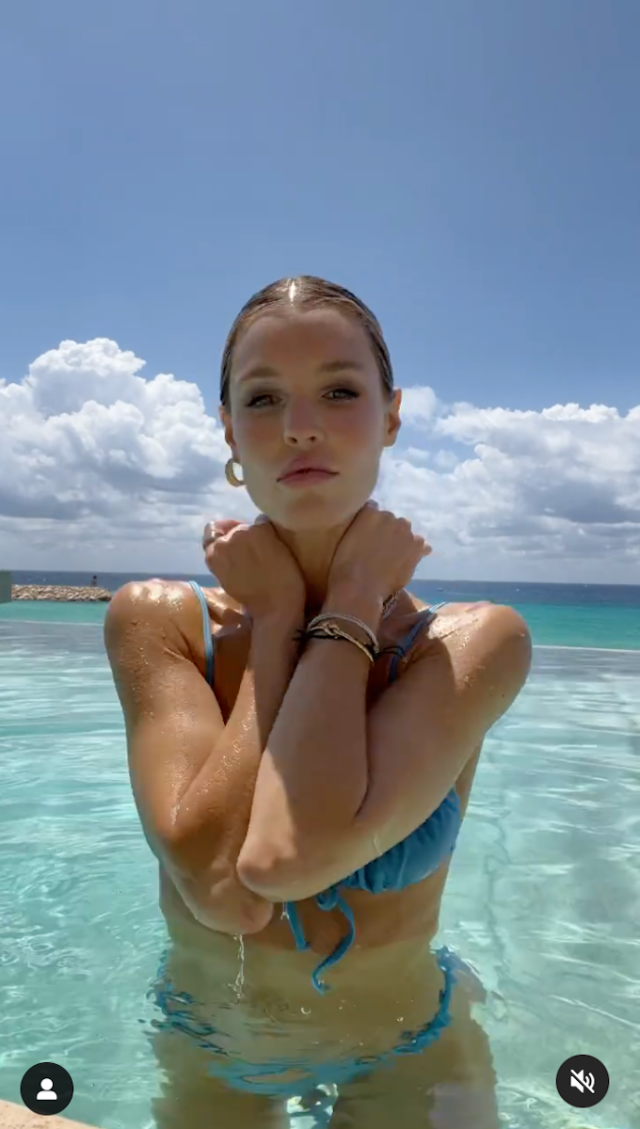 Joy told Haute Living that she takes supplements, including collagen and ketones, every day. "Collagen has been great for my nails, skin and hair. Ketones give me an amazing natural energy boost throughout the day," she said.
"I've found that there is no single secret to a slim torso. For me, it comes from hard work and consistently eating healthy, while limiting processed foods as much as possible," Joy dished to Women Fitness. "My favorite meal is dinner because this is typically when I get to relax and enjoy a nourishing meal. Sometimes I will also have a glass of wine with my loved ones! I have been trying new recipes a couple of times a week. But on Many nights, my dinner includes a healthy protein like wild-caught salmon or other fish, some veggies like steamed asparagus and mushrooms, and a gluten-free carb like rice pasta or a large sweet potato covered in grass-fed ghee."